Click on the images below for more information on the courses and information  we offer
Train the Ultimate Physio
Physio clinic owners- sick of losing key team members? Learn how to train your team to get your clinic running smoothly with a happy team who love coming to work every day!
This course is most suitable for physio clinic owners who:
have a solid, well established clinic with either more than 5 years' experience or more than 5 team members
are snowed under treating too many clients
have had physios leave your clinic, or have underperforming staff
have done business education, programmes or coaching, with limited results or you have found that the material hasn't suited how you operate your clinic
One of the most valuable things you can have done for your clinic is have an expert sit in for the day, and oberve how your practice runs. From how you operate, how your physios operate, down to how your reception and waiting room runs, when I first started with my business coach almost 10 years ago this was a process that helped me greatly. I learned one strategy back in 2009 than has produced more than $1million in revenue for my clinic since then. Nick offers this service, a "Look under the hood" is where Nick comes to your practice and will give you plenty of tips to improve your practice. To book this service you need to contact Nick directly at Nick@ultimate.physio
Are you a physio in private practice and enjoy treating clients, but aspire to greater things and love learning? To further your career you need to learn how to be a leader, this will make you a highly valued and respected physio in your clinical environment.
This course is most suited to physios who:
have worked in private practice at least 1 year
have got the basics of treating patients downpat and are looking at the next step
value learning and personal growth
aspire to leadership roles, career progression and potentially future clinic ownership
this course is most suitable for young or inexperienced clinic owners, especially sole practitioners, who want to learn more about how to grow and progress your business
This resource is a complete package of position descriptions which you an customise with logos and other details, or you can get us to do it for you! The pack contains position descriptions for the clinic owner, practice manager, lead physiotherapist and receptionist. Everything you need to get you started with the HR side of your business at your fingertips. You can edit and change the information, add logos and other clinic specific information in a matter of minutes.
BONUS TIME: You will also receive a student/vounteer details form and a new employee details form which outlines all information about the employee, including bank details, Superannuation, next of kin etc. This is can be tailored with your clinic logo etc.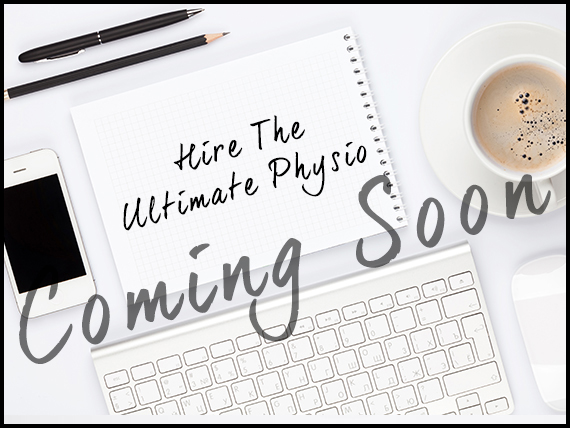 Coming soon - this course will teach you my proven process to attract, recruit and hire the best physios for your team. Cut out the recruiters, save tens of thousands of dollars, and build a pipeline of endless future employees - when one leaves, the next one is ready to start!
if you are a physio clinic owner with more specific needs that what the Ultimate Physio courses offer, Nick has released some business coaching packages, which consists of different sized packages of coaching hours. This package will involve you and Nick having an initial phonecall to determine your business challenges, and for you both to determine whether coaching will be a fit for you. Physio clinic owners most suited to business coaching are highly driven and proactive, and you may have worked with a coach before or put business strategies into place, with varying levels of success. If you want to discuss this product more please contact Nick at Nick@ultimate.physio